| | |
| --- | --- |
| | High Country Books |
Published by Bridge House Books:
Symon's Daughter: A Memoir of Elizabeth Symon Smith

by Don Ian Smith

ISBN: 0965348784
US$17.98
427 pages; trade paper; maps and photos; edited by Naida West
Orphaned at 11, the daughter of a Scottish Presbyterian minister earns a teaching credential and sails to America in 1905. Guided by her father's faith, a powerful sense of humor, a passion for knowledge, and a will to make the world a better place, she leaves her mark on Utah and southern Idaho.

How this indomitable woman raises six children during the hardships of the Great Depression -- all of whom became professionals and leaders in their fields -- will inspire parents today.

Don Ian Smith is a Methodist minister, a rancher, the author of five books, and the son of Symon's Daughter.
For more information about Symon's Daughter, please visit Bridge House Books.
---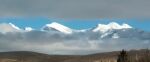 High Country Books, PO Box 1643, Salmon, ID 83467

Phone: (208) 756-2178 or (208) 756-6060 ~~~ Fax: (208) 756-6065

E-mail us

Copyright © 2004, High Country Books. All rights reserved.