| | |
| --- | --- |
| | High Country Books |
About the Author
Rev. Don Ian Smith
Born in Union, Utah in 1918, and the fourth of six children, Don Ian Smith first came to Idaho at the age of five, when his family moved to a small farm near Rupert. His love of the land began at an early age as he tended livestock and worked in the fields throughout his childhood and teen years. He began college at Gooding College in southern Idaho, later transferring to and graduating from Willamette University in Salem, Oregon. He went on to graduate from Garrett Evangelical Theological Seminary in Evanston, Illinois in 1944.

Smith began his ministry at a student church at Fall City, Oregon, while still a student at Willamette University. While at Garrett, he served a church in Winthrop Harbor, Illinois; while he served there, the church was awarded for having the highest rate of growth of any church in the Rock River Conference.

Smith met Betty Moser at Willamette University and married her in April of 1941. After graduating from Garrett, the couple moved back to Idaho, where Smith was appointed to a Federated Church (Methodist and Presbyterian). After serving there briefly, he was appointed to the Methodist Church in Burley, Idaho, but was sent once again to Salmon in 1949. The Federated Church was split into independent Methodist and Presbyterian churches, and Smith embarked on a building program to construct a parsonage and a new Methodist Church.

Upon completion of the parsonage, services were held there until the new church (pictured at right) was ready for occupancy in the early 1950s.

| | |
| --- | --- |
| | While serving the Salmon Methodist Church, Smith also bought a small cattle ranch, which he named Sky Range Ranch. It was here that he and Betty raised their three children, Heather, Rockwell, and Heidi. The entire family enjoyed many happy hours on the ranch, working with the land, raising livestock, and experiencing the wonder of God's creation first-hand in the natural beauty that abounded there. Many of Smith's simple and powerful parables and illustrations are taken from his experiences on Sky Range Ranch, and reflect his love of nature and his appreciation of a God who made its richness. |

Smith particularly enjoyed horses and riding. In addition to the hours spent riding to check cattle and to enjoy the scenery around Sky Range Ranch, he also was able to accompany many good friends on pack trips and hunting trips around central Idaho. This opportunity enabled him to become acquainted with much of the Idaho back country, and his experiences in the scenic and remote areas of the state further enriched his later writings.

On the right, Smith is pictured on his favorite mare Nellace, on whom he spent many hours and traveled many miles, and about whom he writes in one of his book chapters.

In the mid-1960s, Smith briefly served Methodist churches in the Montana towns of Laurel and Choteau. He also took a two-year sabbatical from the ministry during which he returned to Salmon between his Montana appointments and taught English, history, and US Government at Salmon High School. He is still fondly remembered by the students who were fortunate enough to be in his classes.

In 1969, Smith moved to Boise, Idaho, where he was appointed to Hillview United Methodist Church. During his 14 years at Hillview, it grew from just over 100 members to one of the largest churches in the Oregon-Idaho Conference, with approximately 600 members.

While in Boise, Smith was also able to keep a few horses, and took up the sport of endurance riding. He raised a half-Arabian gelding that he named Sur Jonathan; the pair completed several sanctioned endurance events, and covered many enjoyable miles hunting and pleasure riding.

In 1983, Smith retired from full-time ministry, but continued to serve in various capacities for several more years, including part-time and interim appointments at Methodist churches in Gilchrist, Oregon and in Jordan Valley and Filer in southern Idaho. He also served as a staff member at Meridian United Methodist Church and at Boise First United Methodist Church. He continued to ride Sur Jonathan until he was in his late 70s.

In 2001, Smith and his wife Betty returned to their beloved Salmon country, where they now live in town, but have a grand view of the spectacular Continental Divide out their front window. Smith continues to write, and both of them are active in the Salmon United Methodist Church and in the Lemhi County Historical Society.

At right, Rev. Smith's ministry comes full circle, as he once again prepares to serve communion bread at the Salmon United Methodist Church, filling in while the regular pastor is vacationing (June, 2004).
---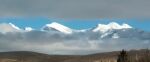 High Country Books, PO Box 1643, Salmon, ID 83467

Phone: (208) 756-2178 or (208) 756-6060 ~~~ Fax: (208) 756-6065

E-mail us

Copyright © 2004, High Country Books. All rights reserved.