| | |
| --- | --- |
| | High Country Books |
The Open Gate

Meditations from the High Country

by Don Ian Smith

ISBN: 0932773095

US$11.95

128 pages; trade paper

"I was pastor for many years in an area where rancher members of my church lived on mountain roads in open-range country. I remember one rather isolated ranch, several miles up a creek, where there were eight gates on the road. I well remember my sense of pleasure one day when driving along behind the man who lived there; he opened all the gates for me. And when we arrived at the ranch house the owner's son came out and opened wide the gate for us. What a symbol of our Christian hope: Gates--often heavy gates with which we struggle--are opened wide for us by One who welcomes us to share His hospitality."

"'God so loved the world that He sent His Son to open gates, reconciling the world to Himself. That's the good news of Christmas, God and sinners reconciled--gates opened wide.'"
Excerpts:

"All my life I have been blessed by a close association with gardens. Early childhood memories include picking and eating vine-ripened tomatoes, learning the difference between weeds and garden plants, proudly learning to use a hoe, 'helping' my father select a ripe, sweet watermelon. In later years I have found that most parsonages have a yard large enough for a garden, even if a small one. Gardens have been an important source of our family's groceries.

"Most of our gardens have included cabbage. We like cabbage, even boiled cabbage. It is very easy to grow, and it is good food. I have had the experience of growing cabbage where the wind blew and was constantly dumping a good deal of dirt and sand on everything. Once our garden was near an unpaved road with a good deal of traffic on it, and the supply of dirt and dust was almost constant all summer. But the remarkable cabbage can grow in a very dirty environment and still be perfectly clean inside. When I pick cabbages, I like to think about their ability to live clean lives in a dirty world and their gift of producing good food even in very unsavory circumstances.

"The secret of the cabbage head is quite obvious. The cabbage grows from the inside out. It has a source ofinner strength that can sustain it when outward conditions are bad. Because it is always growing from the inside, it stays clean even when things outside are dirty. This is a wonderful quality of character. I cannot imagine a cabbage, dirty on the inside and unfit to eat, giving as an excuse the fact that it ws surrounded with dirty neighbors and had to live beside a dusty road. Cabbages can even be dusted on the outside with poison to kill the cabbage worms, and still, just inside the outer leaves, they are clean and pure.

"Through the centuries this power of an 'inner life' has given Christians the ability to live a good life in what is very often a bad world. No matter how filthy or corrupt the environment may be, the Christian who is growing spiritually from the inside has a source of strength that can keep the heart pure."

"The writer of Psalm 119 made a great discovery--the importance of a light, however small, that one can carry with him. If you have ever been out in the hills on a really dark night and on a rough trail, you know this from your own experience. The psalmist speaks of God's guidance as 'a lamp unto my feet, and a light unto my path.' It doesn't need to light up the whole country, but it is adequate for the next step, and it is there when we need it. And it is a lamp we carry with us, not one that is fixed to a certain place or time. Some people think they can predict the future by the past, but there is good reason to doubt this. On a dark night we are not helped a lot by a light that shines on the place where we were the night before.

"As I have traveleed on some very dark nights on mountain trails, I have realized that the smallest of lights that I can carry with me is worth more than the greatest light in the world that shines only in one place. In life we always travel a path we have not walked before. We really cannot see very far ahead, and sometimes we must travel in a lot of darkness. But a light that is adequate for the next step is adequate for the entire journey if we carry it with us because as we move ahead, the light moves and lights as much of the path as we really have to have lighted.

"There are two kinds of people, headlight people and streetlight people. Because a streetlight is brighter, sometimes wonderfully bright, there are people who want to stay always within its glow. But it is terribly limited. A headlight or flashlight may not be so bright, but because it goes with us there is no limit to where we can travel with it. There are individuals, families, and even churches that are streetlight people. They do not want to leave a known tradition; they have found something good and fear to venture by faith in search of something better. Headlight people have found that they can venture into the dark, carrying a light with them, and there will always be enough light as they go along. There is then no limit to their freedom and possibility of adventure."

Reviews:

"Last week I took with me your book, THE OPEN GATE, to use for our devotional time. Seeing the book, one lady asked if it was your latest--she thought she had all your books but did not have this one. She then told how you had truly opened a gate for her when you were her pastor. Her dark concept of a vindictive, accusatory God was eradicated by your message, replaced with hope and comfort."

----------Lois Snelson, Boise First United Methodist Church

---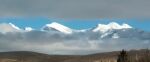 High Country Books, PO Box 1643, Salmon, ID 83467

Phone: (208) 756-2178 or (208) 756-6060 ~~~ Fax: (208) 756-6065

E-mail us

Copyright © 2004, High Country Books. All rights reserved.